Past Exhibition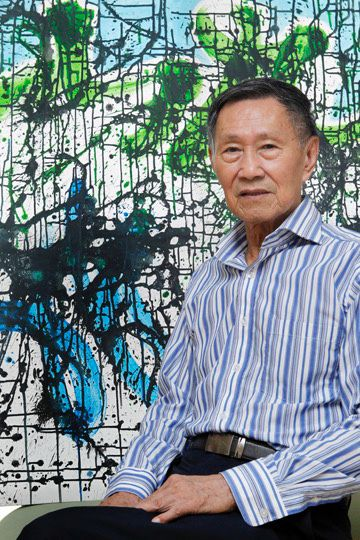 Ho Ho Ying
ABOUT THE ARTIST
Ho Ho Ying (b.1935, China) is a prominent pioneer of modern art in Singapore who co-founded the Modern Art Society Singapore in 1964. Ho received the Cultural Medallion in 2012 and Nanyang Distinguished Alumni Awards in 2014 for his invaluable contributions to the visual arts community. In his works, he often draws inspiration from Chinese culture, calligraphy and philosophy as well as the spontaneity of abstract expressionism. He has participated in numerous solo and group exhibitions in Singapore and abroad since 1963. A scholar of Chinese language and literature, he is a prolific writer under his reputed moniker, Zi Mu and authored numerous books, short stories and contributed to the growing parameters of critical artistic discourse in Singapore.
Ho graduated from Nanyang University in 1962 with a degree in Chinese Language and Literature. Ho also received an Angkatan Pelukis Aneka Daya (APAD) Singapore Award, for his contribution in promoting art among different racial art groups in Singapore and uniting various ethnic art organisations. Ho is a frontrunner for the Modern Art Award by the Modern Art Society, Singapore, for his tireless effort in promoting abstract art. He has exhibited in many countries such as Australia, China, France, Japan, Korea, Singapore, Taiwan, Thailand, USA and Vietnam.
From Chinese calligraphy of his schoolboy years, to Western Impressionism, Fauvist Masters, Surrealism and Free Movements, Ho¡¯s art style has evolved over years to find peace in the aesthetic of expressionism. At the core of his artistic philosophy lies the principle of Taoist sayings about freedom ¡°Let thinking be like a bird in the sky¡± - to live free of systematic restrictions and have artistic expression. Ho presents abstract, figurative and calligraphy paintings but he also pursues other avenues of artistic expression like essays and art criticism.
Ho¡¯s humble beginnings harkened from a time of lean opportunities. Escaping the Japanese in the Second-Sino Japanese War and the Second World War. Ho¡¯s fascination with art and literature was evident in his love for
wuxia
comics - copying the characters - and reading ¡®excessively¡¯ to the dismay of his mother. His love and confidence in art was bolstered by his talent for calligraphy, winning awards in school, and the support of his mentor Chen Wen Hsi who often sponsored his art supplies. Going on to earn a Bachelor of Arts in Chinese Language and Literature, Ho went on to become a figure of support for artistic expression and is outspoken about abstract arts.
Awards
1975
APAD Award by Angkatan Pelukis Aneka Dav, Singapore for his contribution in promoting art among the different racial art groups in Singapore and uniting the various ethnic art organisations.
1979
Contribution to Modern Art Award by Modern Art Society, Singapore for his tireless effort in promoting abstract art.
2000
Kalangguni Art Gold Award by Federation of Art Societies, Singapore.
Award for Achievement, IBC Cambridge 3 QP England.
Outstanding People of the 20th Century.
500 Leaders of Influential Achievement Award.
20th Century Artist & Writer by American Biography Institute
2001
Special Gold Award by Teng Wang Ke, Shandong, China.
Outstanding Speaker of the 21st Century.
Hammer Merit. IBC England.
2003
Long Service Gold Medal by Federation of Art Societies, Singapore.
2012
Cultural Medallion Award, Singapore.
2014
Nanyang Distinguished Alumni Award.
Publications
1973
Moon by Day¡¶⽩天的⽉亮¡·短编⼩说集
1978
Ho Ho Ying Art Book ¡¶何和应画集¡·
1983
The Seven Level of Pagoda¡¶七级宝塔¡·短编⼩说集
1998
Hangzhou Diary ¡¶杭洲⽇记¡·
1999
Perspectives in Art ¡¶美术论衡¡·
2000
Breaking Barriers: Recent Calligraphy Artworks ¡¶Î¥êÆî¡äô¡·何和应创意书画集
2001
Passionate Family & Art Oddity - a collection of short stories in Chinese ¡¶情家艺怪¡·
2003
Tibet Lhasa Diary ¡¶⻄藏拉萨⽇记¡·
2005
¡°Beyond Image¡± Calligraphy & Painting - Artworks by Ho Ho Ying, 2005
2014
¡°The Present¡± ¡¶当下¡·
2021
¡°Ho Ho Ying: The Path I Pursue¡± ¡¶何和应£ºä²õÚâÄîÜÖØ¡·