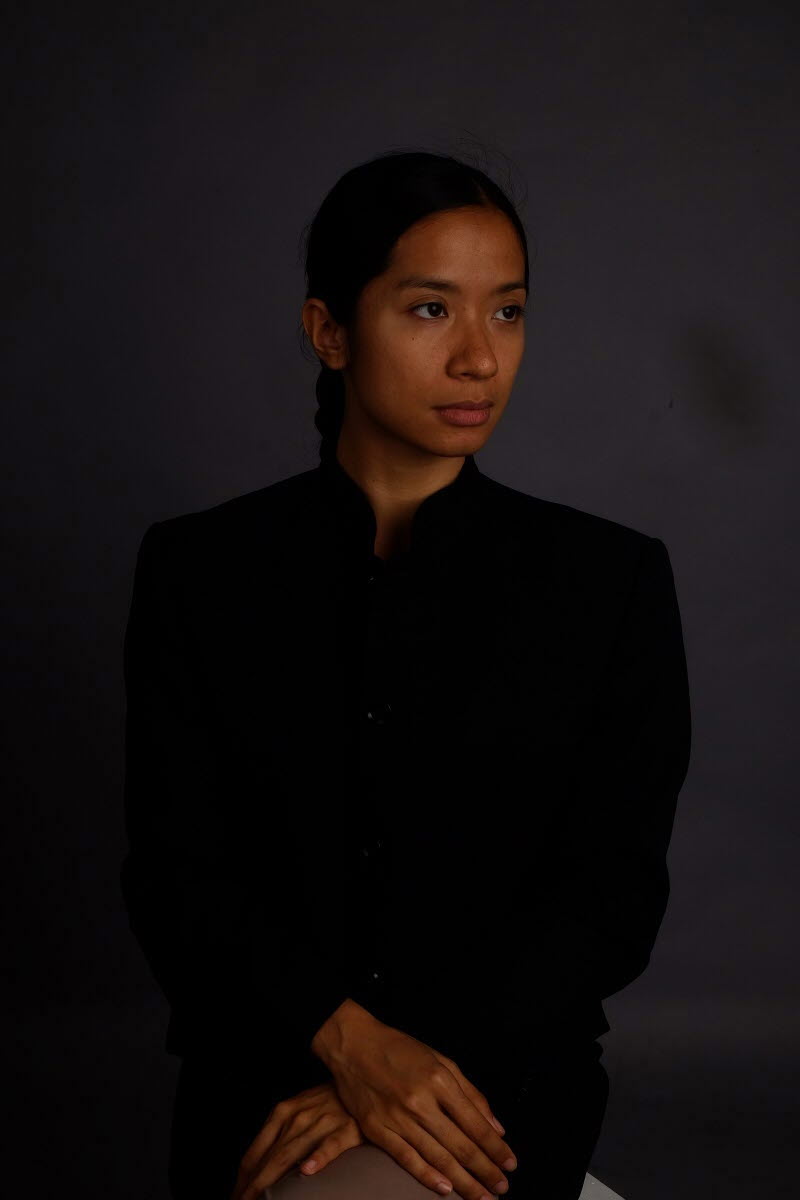 Eisa Jocson
(b.1986, Philippine)
Choreographer Eisa Jocson, who lives in Manila, observes this apparently universal performance of happiness from a particular perspective: Disneyland Hong Kong is a significant employer of Filipino dancers in the region, but because of the colour of their skin they are only cast in nameless subsidiary roles. The character of Snow White is also a domestic female role, where she tidies the house and takes care of the Seven Dwarfs - drawing ironic parallels to the many Filipinas who work as domestic workers around the world.

Jocson, together with performance artist Russ Ligtas, hijacks the physicality and speech of Snow White and creates a playing field of identities. Using strategies of mimicry and reproduction they overwrite the entertainment system's pre-programmed narratives, corrupting this closed world with their foreign bodies. Princess transposes the Filipino body from the supporting position in the margins to the main role at the centre.

In Princess, Jocson continues to investigate the entanglement of affective labour, embodiment, mobility and the construction of racial and gendered identities.

Exhibitions/Biennale
2019
Sharjah Biennale 14, new commission and premiere of 'The Filipino Superwoman Band', Sharjah, UAE
2018
13 Artist Awards, Becoming White, Cultural Center of the Philippines, Manila, RP
2018
Bangkok Art Biennale, Becoming White, Bangkok, TH
Solo Exhibition
2020
Becoming White, S.E.A Focus, Gillman Barracks, Singapore, The Columns Gallery
2014
Philippine Macho Academy, curated by Patrick Flores, Vargas Museum, University of the Philippines, RP
Group Exhibition
2019
Motions of the Kind, Becoming White, Brunie Gallery, School of Oriental African Studies,University if London, London, UK
2018
Philippine Macho Academy and Princess exhibition and performance, RAM HIGHLIGHT: Is it My Body?, Rockbund Art Museum, Shanghai, China
2017
Miss Ruthless, ParaSite Gallery, Hong Kong
2016
Afterwork, ParaSite Gallery, Hong Kong South by Southeast. A Further Surface, Guangdong Times Museum, China
2015
South by Southeast, Osage Gallery, Hong Kong
Selected Performance Tours
2020
S.E.A Focus, Gillman Barracks, Singapore
2019
Princess, da:ns festival, Esplanade Theatre Studio, Singapore
Princess, Taipei Arts Festival Taipei, Taiwan
Corponomy, Oslo Internajonale Teaterfestival, Oslo, Norway
Macho Dancer, Oslo Internajonale Teaterfestival, Oslo, Norway
The Filipino Superwoman Band (premiere), Sharjah Biennale 14, Sharjah, UAE
2018
Host, MADE Festival, Umeå, Sweden
Princess, Moving in November, Helsinki, Finland
Double bill: Macho Dancer and Corponomy, Dampfzentrale, Bern, CH
Princess, Tanzquartier, Vienna, Austria
Macho Dancer, Zoom Festival 2018, Rijeka, Croatia
Macho Dancer, Onassis Cultural Center, Athens Greece
Princess, Oktoberdansm Bergan, Norway
NeoFilipino, Corponomy Digest, Cultural Center of the Philippines, RP
SKIN, PerformanceFest: Staging Alterity, MCAM, Shanghai, China
Double bill: Macho Dancer and Corponomy, Taipei Arts Festival Taipei, Taiwan
Host, Macao Arts Festival, Macao
Corponomy, Bouge B Festival, Antwerp, BE
Macho Dancer, International Performance Art Festival, Copenhagen, DK
Princess, Tanzplattform, Essen, DE
Luna Tunes, Performance commission for In Between Worlds, Juan Luna Exhibition, National Gallery, Singapore
2017
Princess, Spiel Arts festival, Munich, DE
Princess, Tanz in Bern, Dampfzentral, Bern, CH
Double bill: Macho Dancer and Corponomy premiere), Da:ns festival 2017, Singapore, SG
Corponomy (Avant-Premiere), LIVEWORKS, Sydney, AU
Corponomy (Artist Lecture), NSW Gallery, Sydney, AU
Double Bill: Death of the Pole Dancer and Macho Dancer, Konfrontacje Teatralne 2017, Lublin, PL
Princess, Beursschouwburg, Brussels, BE
Princess, Tanzhaus-nrw, Dusseldorf, DE
Macho Dancer, Oz Asia Festival, Adelaide, AU
Your Highness, Frankfurt LAB, DE
Your Highness, La Batie festival, Geneva,
Your Highness, Zurich Theatre Spektakel, Zurich
Your Highness, European Premiere: International Sommer festval, Hamburg, DE
Your Highness, World Premiere, Cultural Centre of the Philippines, Manila, RP
Double bill: Death of the Pole Dancer and Macho Dancer, MA scene nationale, Montbeliard, FR
Macho Dancer, Asia TOPA, Arts Centre Melbourne, Australia
Host, Yokohama Dance Collection, Yokohama, JP
Princess (premiere), Mousonturm Frankfurt, DE
2016
Performance Lecture, Staging Alterity: Dialogues on Different Worlds/ Different Theatres, Minsheng Art Museum, Shanghai, China
Host, Tanz in Bern, Dampfzentrale, Switzerland
Host, OKTOBERDANS 2016, bit Teatergarasjen Bergen, Norway
The Greatest Show on Earth, Kammerspiele, Munchen, DE
The Greatest Show on Earth, Theatre des Amandier Nanterre, Paris, F
The Greatest Show on Earth, Sophiensaela, Berlin, DE
The Greatest Show on Earth, Mousontrum, Frankfurt, DE
The Greatest Show on Earth, Kampnagel, Hamburg, DE
Host, (Philippine premiere) Cultrual Center of the Philippines, Manila, PH
Macho Dancer, Maillon Theatre de Strasbourg, F
Macho Dancer, Vooruit, Ghent, BE
Host, (Belgian premiere) Beursschouwburg, Brussels, BE
Double bill: Death of the Pole Dancer and Macho Dancer, Teatro Municipal do Porto, P
Host, (Austrian Premiere) Tanzquartier, Vienna, A
2015
Trilogy: Death of the Pole Dancer, Macho Dancer, Host, Counterpulse festival in partnership with SF MOMA, San Francisco, USA
Space, Carriageworks, Sydney, Asutralia
Princess Studies work-in-progress showing, ParaSite, Hong Kong, HK
Trilogy: Death of the Pole Dancer, Macho Dancer, Host, LIVEWORKS: Performance
Space, Carriageworks, Sydney, Asutralia
Alpha, Culture Centrum Brugge, BE
Host, Nooderzon Performing Arts Festival, Groningen, NL
Host, Tanz Im August, Berlin, DE
Host, 36th Zürcher Theater Spektakel, Zurich, CH
Macho Dancer, Festival Explicit, hTh CDN Montpellier, FR
Host, German premiere in Tanzhaus nrw, Dusseldorf, DE
Macho Dancer, Tanzhaus nrw, Dusseldorf, DE
Macho Dancer, Tanz! Heilbronn: "Manner unter sich" Heilbronn, DE
Macho Dancer, Frascati Issues: Mr. Mrs. MX, Amsterdam, NE
Macho Dancer, DeSingel, Antwerp, BE
Host (work in progress showing), TPAM, Yokohama, JP
Double bill: Death of the Pole Dancer and Macho Dancer, TPAM, Yokohama, JP
Alpha, Sodsai Pantoomkomol Centre for Dramatic Arts, Bangkok, TH
2014
Host (work in progress showing), Working Title Platform #08, workspacebrussels, BE
Macho Dancer, December Dance Brugge, PH
Host (work in progress showing), Morishita Studios, Saison Foundation, Tokyo, JP
Alpha, Tanz in Bern, CH
Alpha, World Premiere Dance Festival Esplanade Singapore
Double bill: Death of the Pole Dancer and Macho Dancer, Time-Based Art Festival, Portland Institute of Contemporary Arts. US
Macho Dancer, Theaterfestivalbasel, Basel, CH
Macho Dancer, Fantasies that Matter. Images of Sexwork in Media and Art. Kampnagel,Hamburg, DE
Macho Dancer, Ten Million Rooms of Yearning. Sex in Hong Kong. Para Site Gallery, HK
Macho Dancer, Theater der Welt, Mannheim, DE
Death of the Pole Dancer and Macho Dancer, Phare West #5 Evening: Eros, Le Phare, Centre Choregraphique National Du Havre Haute-Normandie, FR
Macho Dancer, Queer Zagreb, Zagreb, HR
Death of the Pole Dancer, Asia Focus, AIHALL, Osaka, JP
Double bill: Death of the Pole Dancer and Macho Dancer, Dampfzentrale, Bern, Ch
Double bill: Death of the Pole Dancer and Macho Dancer, Antigel Festival Geneva, CH
2013
Macho Dancer, Mousonturm Künstlerhaus, Frankfurt, DE
Macho Dancer, Queer New York International Arts Festival, New York, USA
Death of the Cultural Worker, P-noise Festival, Copenhagen, DK
Death of the Pole Dancer, TABUROPA, Cologne, DE
Macho Dancer, 34th Zürcher Theater Spektakel, Zurich, CH
Macho Dancer, Tanz Im August, Berlin, DE
Macho Dancer, Nooderzon Performing Arts Festival, Groningen, NL
Macho Dancer, Impulstanz 8:tension Series, Vienna, AT
Macho Moves, Performance Installation, 1335 Mabini Gallery, Manila, PH
Macho Dancer, Premiere, Beursschouwburg, Brussels, BE
Death of the Pole Dancer and Macho Dancer, Exodus Festival, Ljubljana, SI
2012
Macho Dancer, Working Title Platform, Workspacebrussels, Beursschouwburg, Brussels, BE
Death of the Pole Dancer, IT IS NOT (A) FAIR, Tanzquartier Wien ,Vienna, AT
Death of the Pole Dancer, 33th Z체rcher Theater Spektakel, Zurich, CH
Up, (dance commission and premiere) Dansand!, Ostend, BE
2011
Death of the Pole Dancer, Baroque Bodies Festival, Beursschouwburg, Brussels, BE
Death of the Pole Dancer, (premiere) In Transit performance art festival, Haus der
Kulturen der Welt in Berlin, DE, developed during residency at Nadine, Brussels, BE
I am not a Robot, Ballet Philippines??Kabaret, Arts in the City, Taguig, PH
2010
Apollo 11, Works in progress, Monsoon encounters, Leuven, BE
Horizontal/Vertical Dialogues, Monsoon, Leuven, BE
Festival opening, Coup de Ville, Sint-Niklaas, BE
Strange Pilgrims, Magnet Katipunan, Manila, PH
Politics of Pole, The Living Room, Manila, PH
Flesh Steel and Codecs, FoAM, Brussels, BE
Stainless Borders: The Deconstruction of Architectures of Control
public interventions, Coup de Ville, Sint-Niklaas, BE
public interventions, FoAM residency, Brussels, BE
public interventions, Manila, PH
Artist Talk, Mentorship, Curations
2017
Artist Mentor, Da:ns lab, Da:ns festival 2017, Singapore
XO STATE co-curator, Asia TOPA, Arts Centre Melbourne, Australia
Artist Talk, Asia Dramaturgs'Network, TPAM, Yokohama, JP
2016
Karnabal Festival, Manila, Co-Curation
Economic Body, Dance Manila Festival Conference
Guest mentor, Macho Dance 2 week workshop, School of New Dance Development, Amsterdam
2015
Guest mentor, Transcultural collaboration semester program, University of Zurich, Connecting
Space Hong Kong
Karnabal Festival, Manila, Co-Curation
2013
Stainless Pole Macho, Feminist Strategies conference, World University, Aalborg, DK
2010
Politics of Pole, Research Gathering, The Living Room, Manila, PH
Flesh Steel and Codecs, Timelab, Ghent, BE
Flesh Steel and Codecs, FoAM: Research Gathering, Brussels, BE
Selected Awards, Residencies and Grants
2019
The final winner of Hugo Boss Asia Art Awards 2019
2018
2018 Thirteen Artist Awardee, Cultural Center of the Philippines
Princess, one of the outstanding productions in Germany, Tanzplattform, Essen, DE
2017
Development and Technical residency for Corponomy, LIVEWORKS Festival, Sydney, AU
2016
Invited Artist, Tanzplattform, Frankfurt, DE
2015
Special Combination, Asia-Australia artist exchange, Melbourne Australia
Para Site, Artist in Residence, Hong Kong, HK
Tanzhaus nrw, Technical Residency for Host, Dusseldorf, DE
Painofabrik, Artist in Residence, Brussels, BE
2014
Workspacebrussels, residency and co-production grant Brussels, BE
Artist Research Residency, Saison Foundation, Tokyo, JP
2013
The Zürcher Kantonalbank Acknowledgment Prize, Zürcher Theater Spektakel, Zurich, CH
Prix Jardin Europe nominee for young choreographers, Impulstanz, Vienna, AT
Wp Zimmers, 2-week technical residency and support, Antwerp, BE
2012
Workspacebrussels, 1-month residency and co-production grant Brussels, BE
2011
International Visitors Program, Tokyo Culture Creation Project, JP
Nadine, 2-month residency and production grant, Brussels, BE
2010
FoAM, 1-month residency, Brussels, BE
Selected participant, SoundImageCulture, Brussels, BE
Education
2009
Apprenticeship program, Art Students League of New York, NYC, USA
2008
University of the Philippines, BFA in Visual Communication
2003
Philippine High School for the Arts, majored in Visual Arts, minored in Ballet